Rotary screw compressors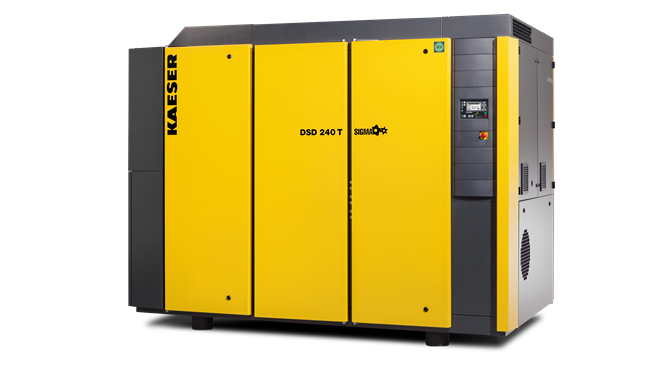 Our energy-saving Air complete solution
➤ you can meet virtually any compressed air demand with fluid-injected rotary screw compressors from Kaeser. We offer a huge selection of compressors ranging from 2.2 kW right up to 315 kW.
➤ With efficient IE3/IE4 motors
➤ Intake capacity: 0.34 to 83.40 m³/min – 99 % final vacuum
Keep up the pressure
Rotary screw compressors supply production processes in industry, trade and workshop applications with a reliable supply of quality compressed air. They are the preferred choice for users requiring constant pressure over prolonged periods.
To ensure that our rotary screw compressors operate as efficiently as possible, we developed our own special rotor profile. Our SIGMA profile rotors provide you with energy savings of up to 15 % compared with conventional rotor profile designs.
Furthermore, our airends with SIGMA profile rotors boast an exceptionally long service life. This is in no small part due to the roller bearings we choose to use: they are precision adjusted and generously sized. Combine this with our in-house high-end manufacturing processes with lowest possible manufacturing tolerances and you have an exceptional product.
Your Advantages
Extremely efficient:
IE3 motors are mandatory in the EU since 2015. These motors and the SIGMA profile ensure that our packages use significantly less power.
Low-maintenance and service-friendly:
Cooling air filter mats protect the interior from dirt, the gas ballast provides enhanced water vapour tolerance, low speeds extend the service life of all components.
Wide opening doors and a removable rear panel facilitate maintenance.
Our vacuum screw solutions in detail
Vacuum airend
Rotary screw vacuum airend with energy-saving SIGMA profile
V-belt Drive
Automatic belt tensioning
Inlet valve controlled by a solenoid valve
Cooling oil pump (gear pump)
Permissible inlet air temperature up to +45 °C
Electric motor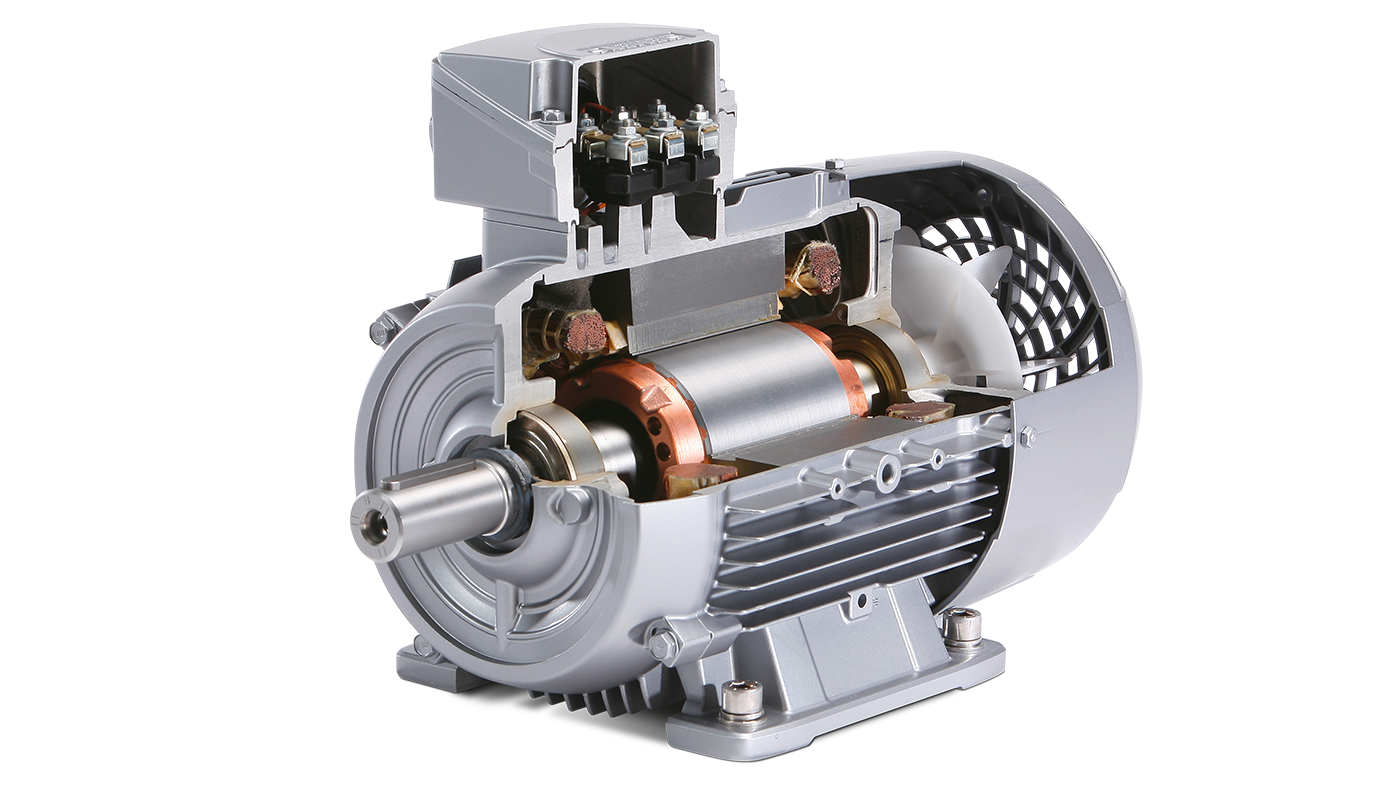 Premium Efficiency IE3
Degree of protection IP 55 (ASV series: IP 54)
Insulation class F
400 V, 3-phase, 50 Hz
Cooling
Air-cooled aluminium fluid cooler
Designed for ambient temperatures up to +40°C
Cooling fluid circuit
Thermostatic valve
Bypass of full-flow micro-filter with replaceable insert
Combined fluid reservoir and separator tank with pressure relief valve
Multi-stage separator cartridge
Fluid level sight glass drain valve and hose
Quick-release couplings for measuring pressure differential
Separator cartridge
Control cabinet
IP 54
230 V control voltage
Direct motor start-up
Motor overload protection relay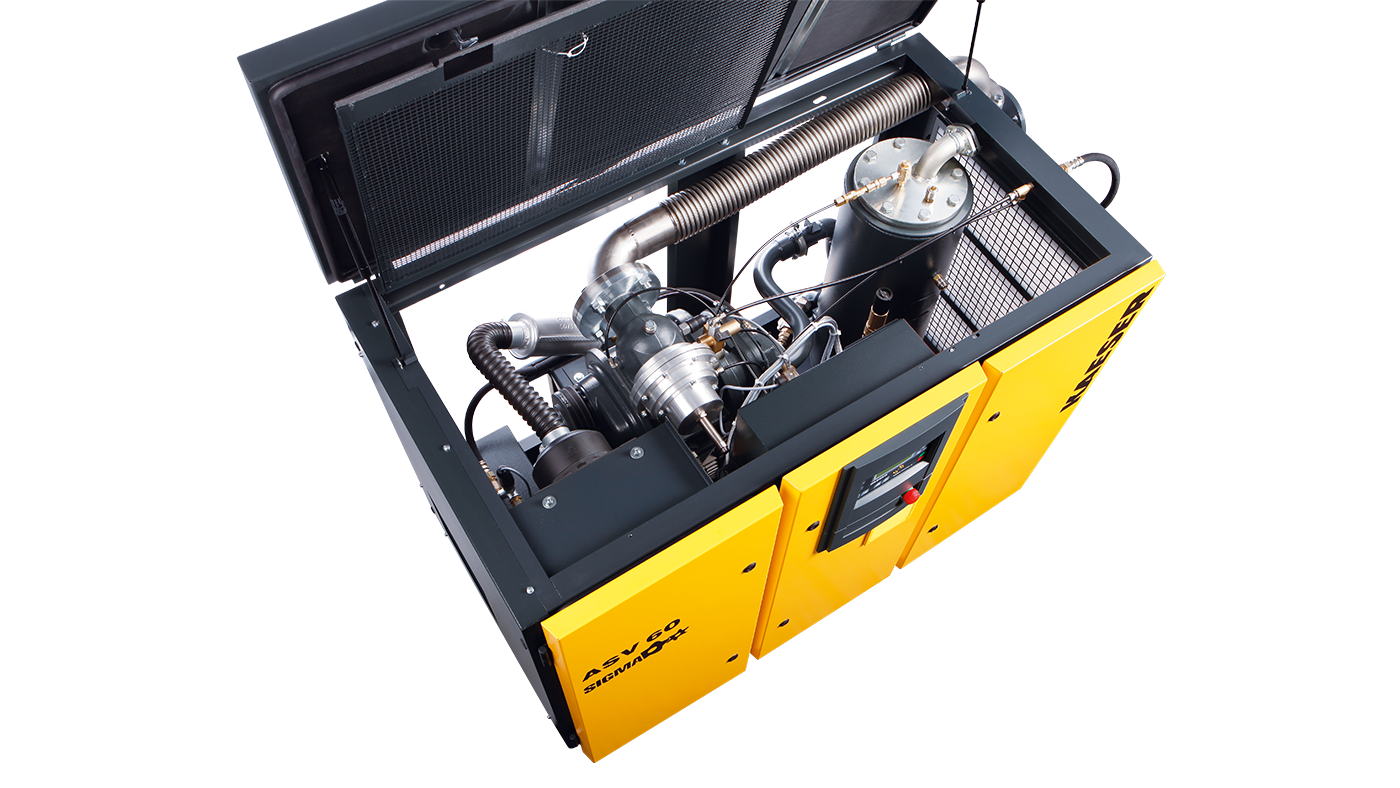 General design
Compact enclosure mounted on a solid base frame equipped with anti-vibration mounts
Powder-coated surfaces
Mineral wool soundproof lining
Access doors on top and side
Replaceable cooling air filter
Airend and motor on anti-vibration mounts
Flexible piping
Fully guarded belt drive and fan
Vacuum filter with pressure transducer to indicate clogging
Infinite control of inlet valve opening via partial-load controller
Changeover to Dual control mode possible
Gas ballast unit for enhanced water vapour tolerance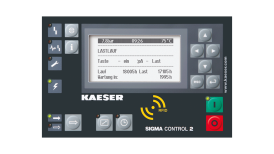 Sigma Control
"Traffic-light" LED indicators show operational status at a glance
Plain text display
30 selectable languages
Soft-touch keys with icons
Fully automated monitoring and control
Selection of Dual, Quadro, Vario and Continuous control as standard
Interfaces: Ethernet
Additional optional communications modules for: Profibus DP, Modbus, Profinet and DeviceNet
SD-card slot for data-logging and updates
RFID reader
Web server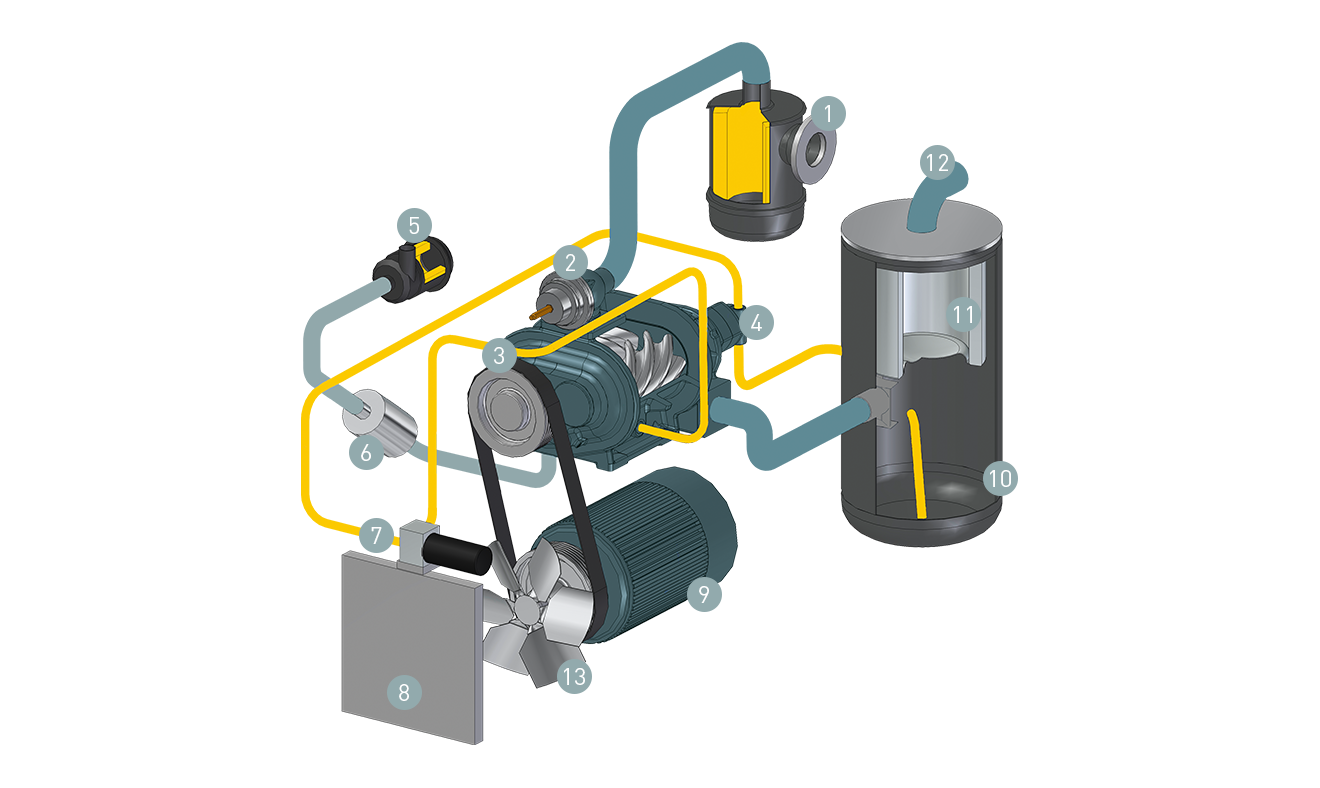 Inlet filter
Inlet valve (vacuum regulator)
Airend
Cooling oil pump (gear pump)
Gas ballast air filter
Gas ballast silencer
Thermostatic valve with oil filter
Oil cooler
Drive motor
Oil separator tank
Oil separator cartridge
Exhaust air
Fan
The technical specifications can be found in this brochure: Rotary Screw Vacuum Pumps ASV / BSV / CSV Series – Brochure
---
Rotary screw compressors with fluid cooling
Large selection – Low life-cycle costs
Fluid-injected rotary screw compressors are used in a wide range of sectors. They are highly durable and operate reliably and efficiently even at high temperatures of up to 45 °C. The associated investment costs are comparatively low.
However, the lion's share of life-cycle costs is spent on energy (up to 80 %). in fact, energy costs taken over the lifetime of a compressor, add up to a multiple of investment costs. For this reason, Kaeser rotary screw compressors are equipped with energy-saving SIGMA profile airend rotors that save up to 15 % energy compared to conventional rotor profile designs.
Compressed air stations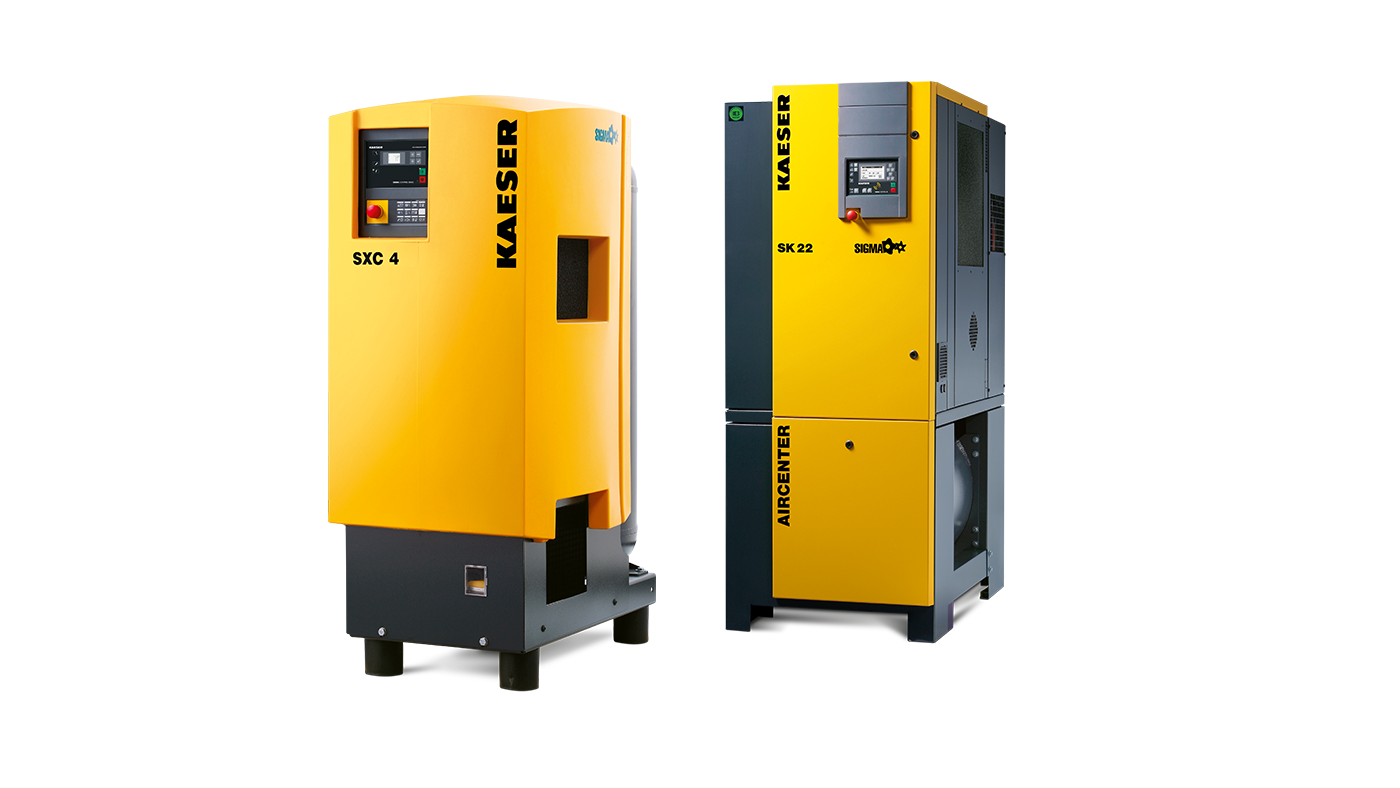 With belt drive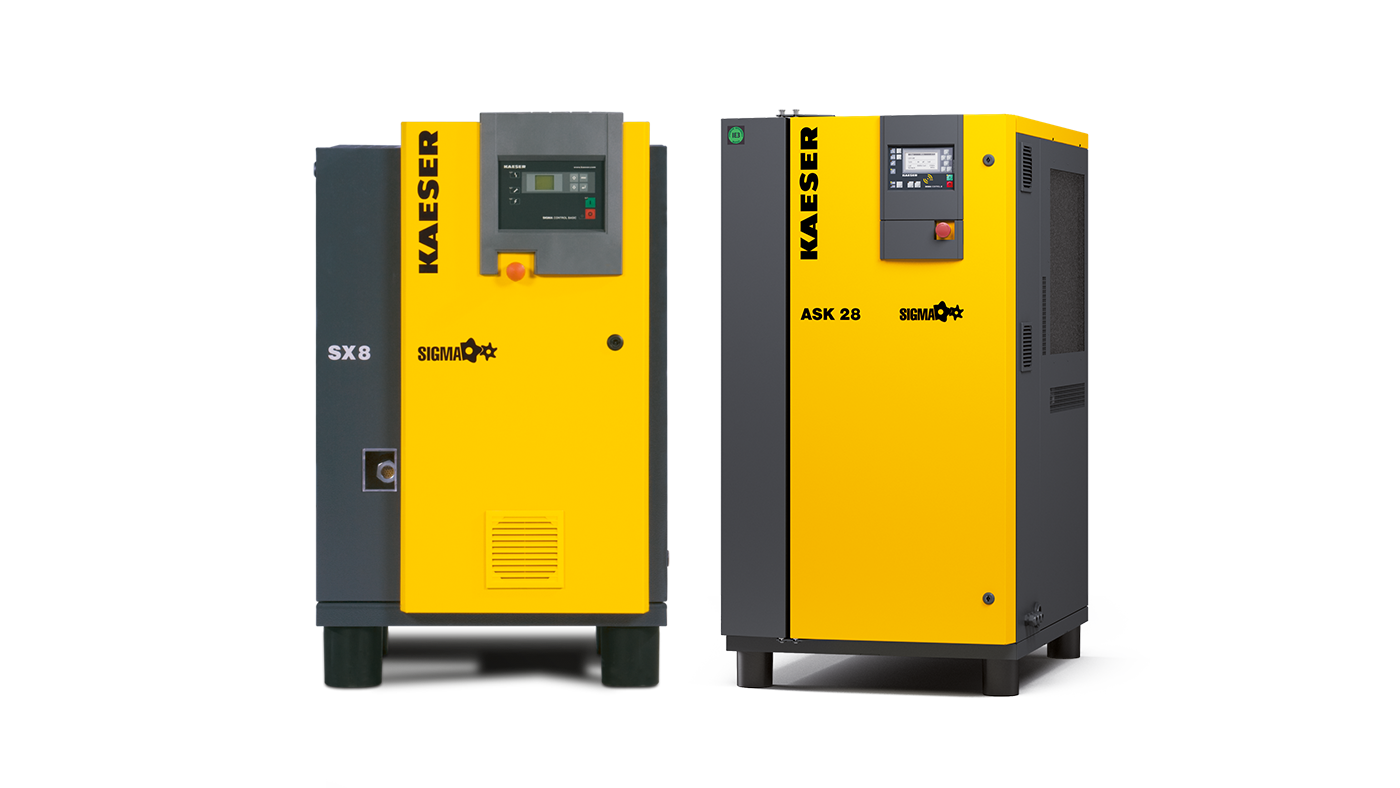 With 1:1 direct drive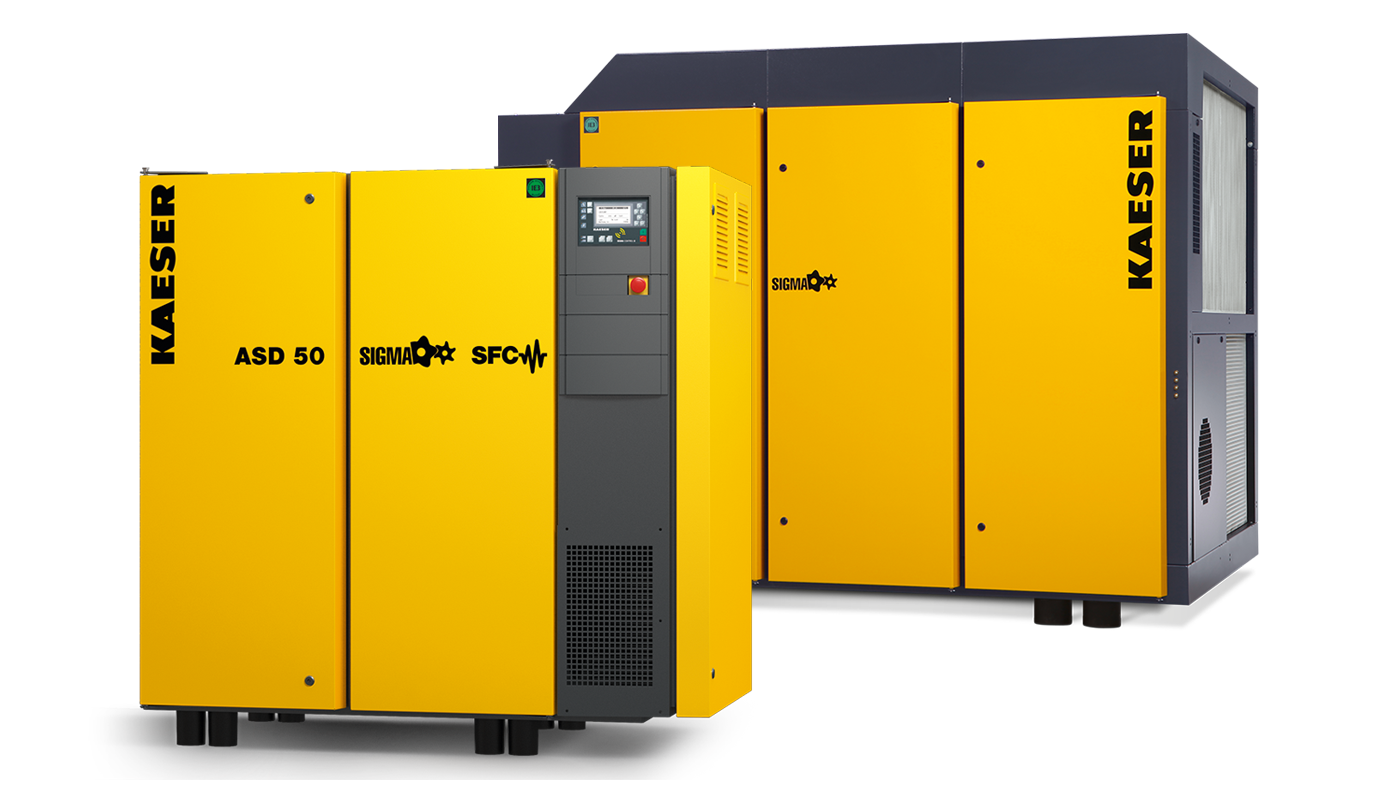 With two compressor units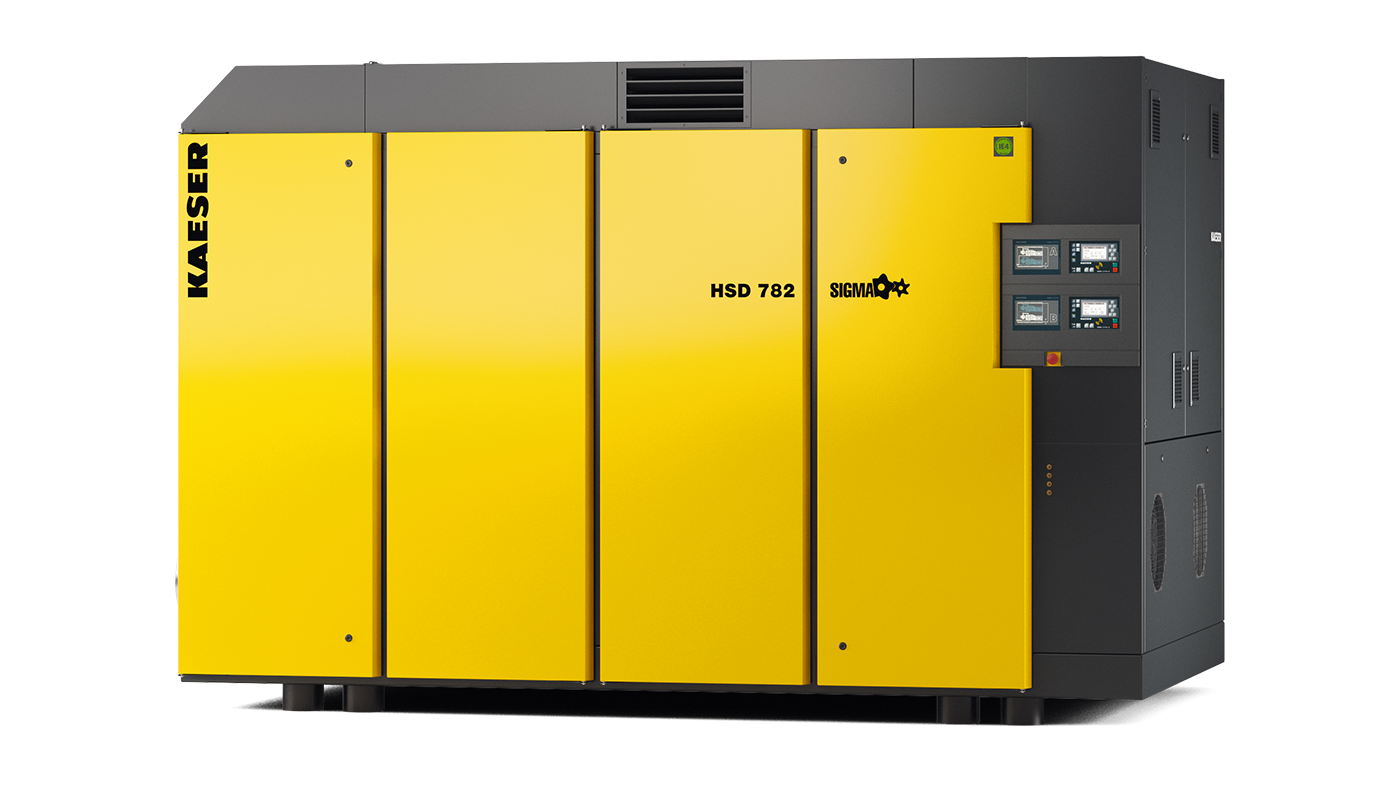 ---
Compressors for oil-free compressed air
Robust and clean-running for sensitive processes
Whether for the semiconductor, food or automotive industries: our two-stage, oil-free compression rotary screw compressors tirelessly prove that process-sure purity and efficiency do indeed go hand in hand – even in extreme conditions.
Uncompromising efficiency – Efficient compression with "Ultracoat"
Service-friendly design – Maximum machine availability, minimal inspection time
Have special requirements? With their variable interfaces, our compressors are easily integrated into existing compressed air and control systems. Our experts will propose a solution that is specifically tailored to meet your exact needs – just contact us!
With air-cooling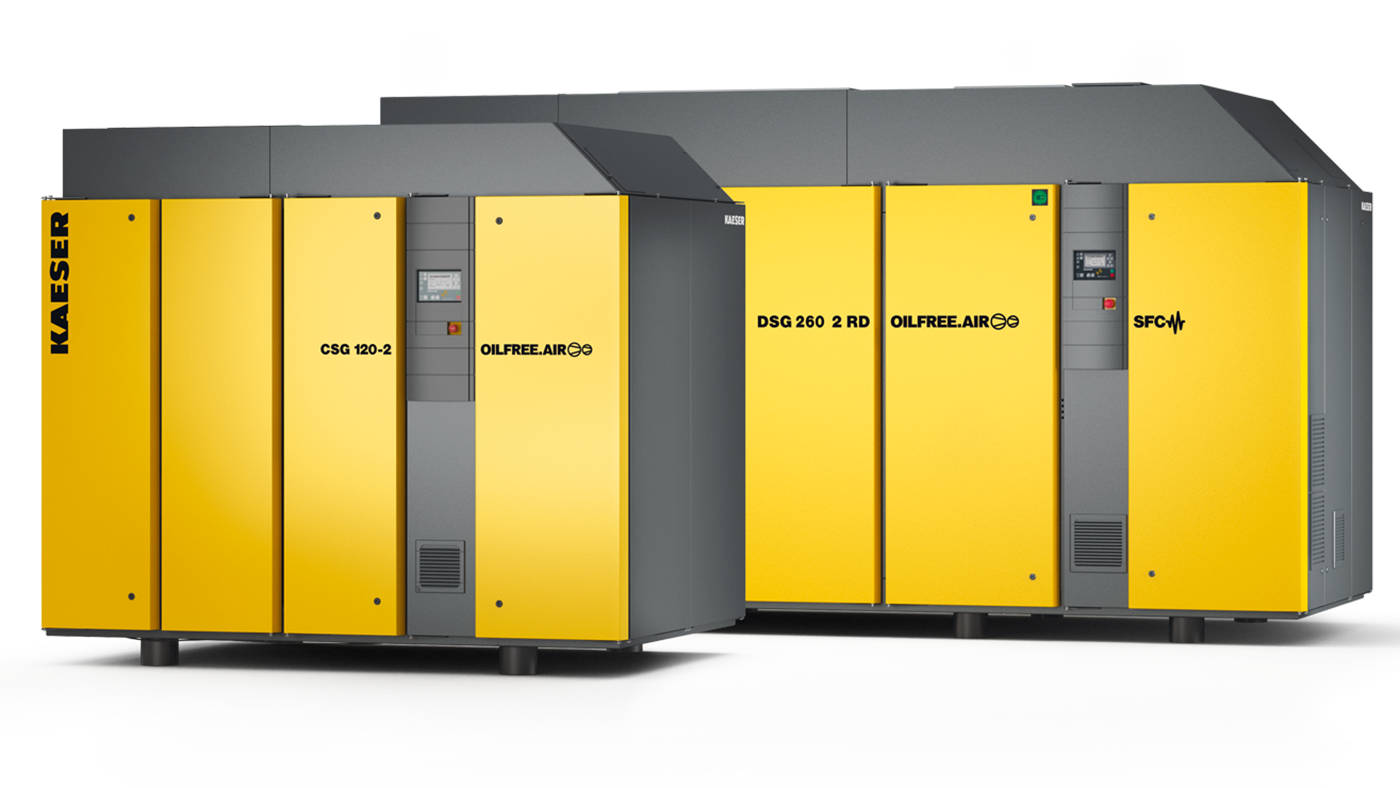 With water-cooling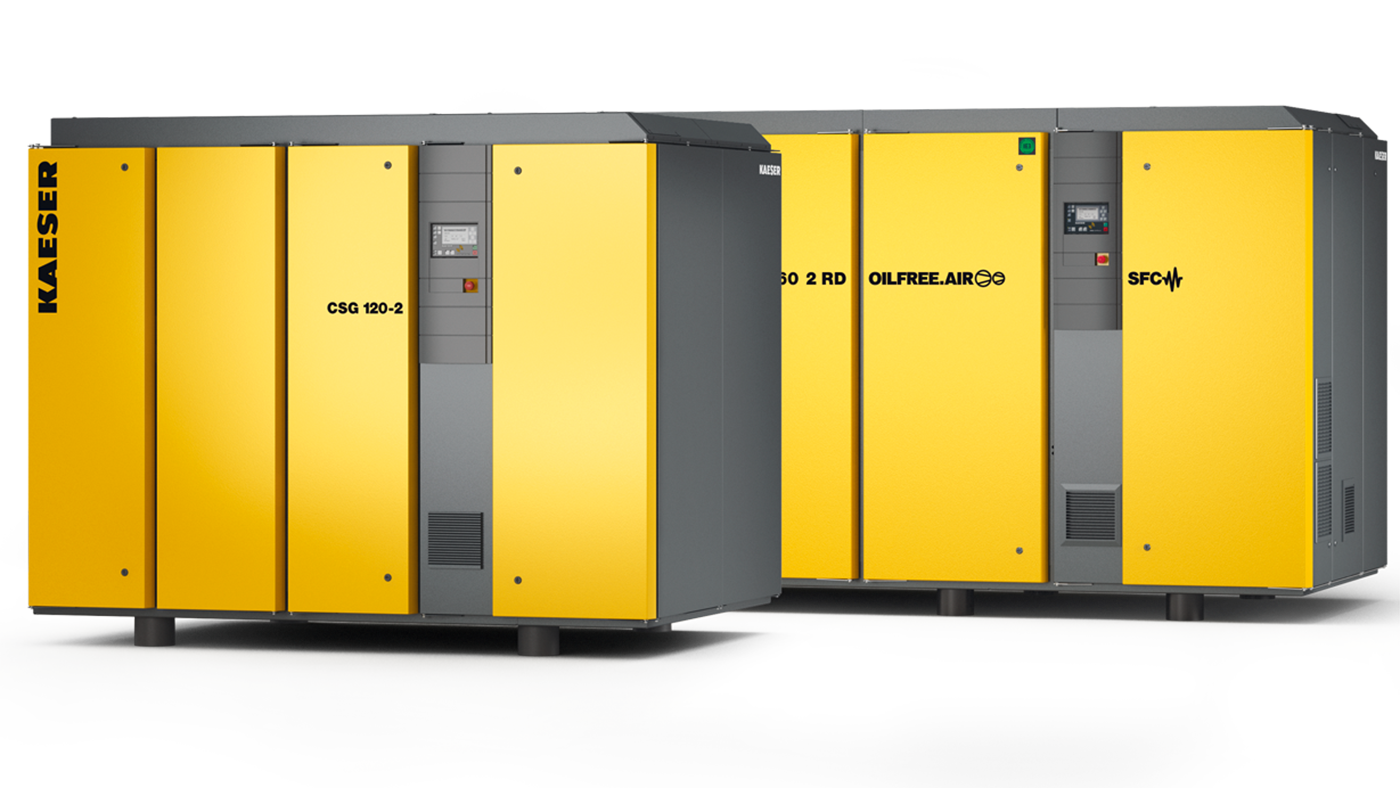 With integrated compressed air dryer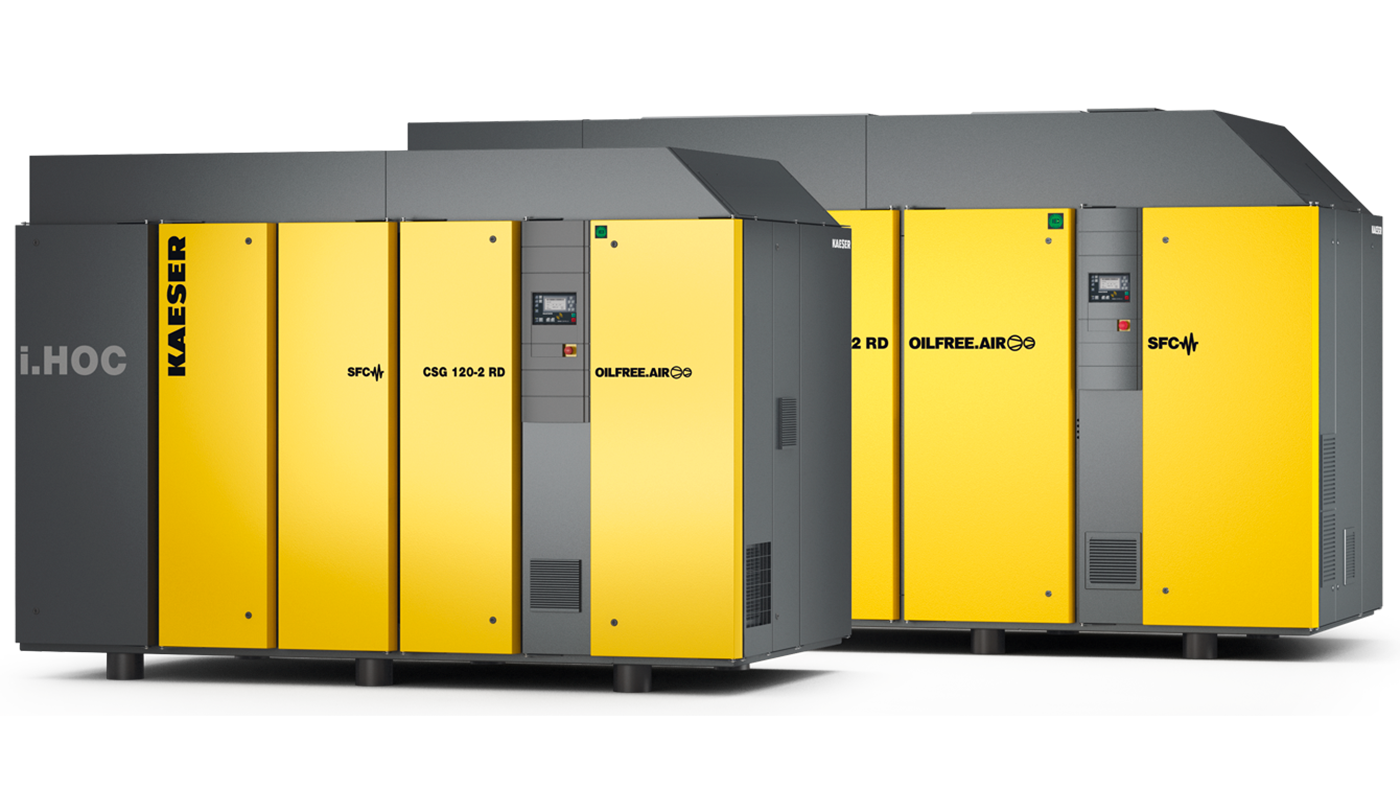 Portable oil-free compression up to 45.8 m³/min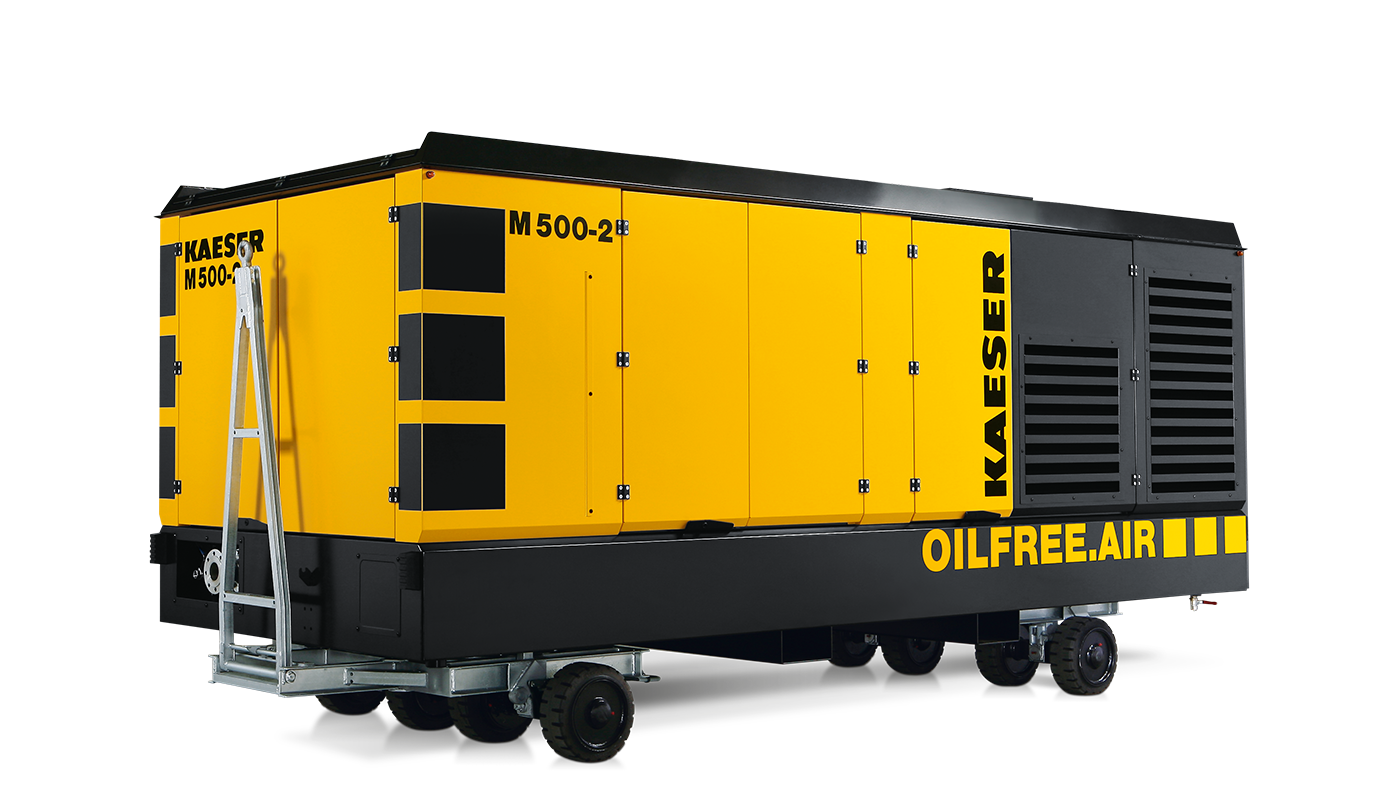 ---
Turnkey solutions: KAESER Screw Air packages
---
Heat recovery
Heat recovery : Save up to 96 % energy!
A rotary screw compressor converts 100 % of the drawn electrical energy into heat. Up to 96 % of this energy can be recovered.
The fully-enclosed design of modern rotary screw compressors makes them especially suitable for heat recovery. This fact applies to both fluid-injected as well as to oil-free compressors.
Heat recovery Solution